2021 Camp Geronimo Summer Camp
Event Details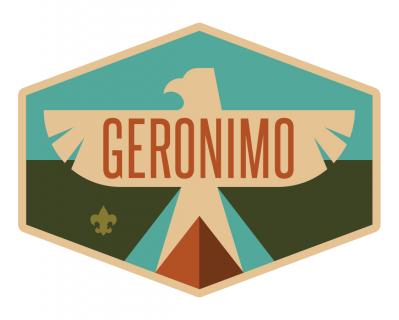 Welcome to
2021 Camp Geronimo Summer Camp!
Camp Geronimo is located north of Payson in the shadows of the magnificent Mogollon Rim on nearly 200 acres of forest and meadows. Surrounded by over 5,000 acres of ponderosa pine forest, trails lead from camp to the top of the rim where Scouts can stand at the very edge of the Colorado Plateau.
We are excited to offer the following programs this year:
$375 - Plan A - Youth Merit Badge Program w/ Dining Hall
$275 - Plan B - Youth Merit Badge Program w/Patrol Cooking
$375 - Brownsea Island Program -First camping experiences
$400 - Fast Track -for those who attend w/o their unit. We provide the leadership.
$500 - Spade Ranch High Adventure- Age 13 by January 1 of the year attending camp.
$400 - Fish Camp! Ages 13 + - Only available Sessions 1-3
$375 - Counselor in Training (CIT)- Session 1 (weeks 1-3) and Session 2 ( Weeks 4-6)
$600- Drone Flight School- Only available Sessions 2-4
Save a Spot - Now is the time to Save a Spot as the first step in preparing to attend Camp Geronimo during the Summer of 2021.
A Deposit of $200 is Required to Save a Spot (For all Reservations started BEFORE 12/31/2020). This deposit is refundable up until December 31, 2020. The deposit will be applied to your overall camp fees.
Please list the top 3 preferences for a camp site. The camp map is attached under the register button. Sites will be assigned in May, first consideration will be based on troop history for the session and site. Remember, all sites are shared depending on group size. By May we will know the actual number of participants for your troop and will be able to accurately place each troop in a site to prevent overcrowding.
Camp Geronimo t-shirts are avaiable on the registration site.
Check-in times - please choose your check-in time as you register.
Please contact Our Program Department at GCC.Program@scouting.org with any questions regarding campsites or campsite changes.
When & Where
Counselor In Training Session 1Camp Geronimo
Sunday 05-30-2021 10:00 AM MT to
Saturday 06-19-2021 10:00 AM MT
Limit One Registration Per Unit
---
Session 1Camp Geronimo
Sunday 05-30-2021 1:00 PM MT to
Saturday 06-05-2021 10:00 AM MT
Limit One Registration Per Unit
---
Session 2Camp Geronimo
Sunday 06-06-2021 1:00 PM MT to
Saturday 06-12-2021 10:00 AM MT
Limit One Registration Per Unit
---
Session 3Camp Geronimo
Sunday 06-13-2021 1:00 PM MT to
Saturday 06-19-2021 10:00 AM MT
Limit One Registration Per Unit
---
Counselor In Training Session 2Camp Geronimo
Sunday 06-20-2021 10:00 AM MT to
Saturday 07-10-2021 10:00 AM MT
Limit One Registration Per Unit
---
Session 4Camp Geronimo
Sunday 06-20-2021 1:00 PM MT to
Saturday 06-26-2021 10:00 AM MT
Limit One Registration Per Unit
---
Session 5Camp Geronimo
Sunday 06-27-2021 1:00 PM MT to
Saturday 07-03-2021 10:00 AM MT
Limit One Registration Per Unit
---
Session 6Camp Geronimo
Sunday 07-04-2021 1:00 PM MT to
Saturday 07-10-2021 10:00 AM MT
Limit One Registration Per Unit
---
Session 7Camp Geronimo
Sunday 07-11-2021 1:00 PM MT to
Saturday 07-17-2021 10:00 AM MT
Limit One Registration Per Unit
---
Session 8Camp Geronimo
Sunday 07-18-2021 1:00 PM MT to
Saturday 07-24-2021 10:00 AM MT
Limit One Registration Per Unit