Central District Leader SpecificTraining and IOLS
Event Details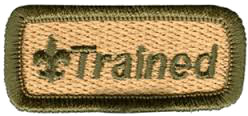 Introduction to Outdoor Leader Skills (IOLS) & Leader Position Specific Training
Complete the training you need in one weekend
Cost: $35 per person
Location: Heard Pueblo
Dates: Friday October 18th - Saturday October 19th
Check In – 6:00 pm - 7:00 pm Friday October 18th
Closing – 6:00 pm Saturday October 19th
Required for training: IOLS REQUIRES an overnight stay which is recommended for all BSA Scout leaders wishing to attend Wood Badge training in the future.
FOOD – Participants should bring or provide themselves Dinner for Friday night, as well as Breakfast for Saturday morning.
Lunch and Dinner will be provided on Saturday for ALL participants!
Participants are required to stay overnight as a part of this course. Participants will be staying in their own tents and working together as Patrols throughout the weekend. Our instructors will guide you on how to set up your campsite and how to prepare the meals.
This course is designed as an introductory training and will satisfy the requirements needed for BSA Scout camping and required training for Scoutmasters and Assistant Scoutmasters.
Leader Specific Training & Introduction to Outdoor Skills
Along with Scoutmaster Specifics, Introduction to Outdoor Leader Skills are required courses for all direct contact leaders registered in Scouts BSA Troops and Venture Crews, in order to be considered "trained". These courses are scheduled consecutively as a full training event to prepare participants for their role as Scout Leaders.
Leader Specific Training
Is the initial level of training for the top leader of Scouts BSA & Venture Units. It is designed for Scoutmasters, Assistant Scoutmasters, and Junior Assistant Scoutmasters. However, committee members and other adults connected to a troop or crew are encouraged to attend.
Introduction to Outdoor Skills
Is a hands-on program that gives adult leaders a practical introduction to the patrol method of a youth-led troop or co-ed crew, by teaching many of the outdoor skills they need to lead scouts in the out-of-doors. In addition, the teaching methods, activities, and games model the variety of teaching used in effective and engaging Scouting programs.
Working as patrols, this hands-on course provides adult leaders the practical outdoor skills they need to lead Scouts in the out-of-doors. Upon completion, leaders should feel comfortable teaching Scouts the basic skills required to obtain the First Class rank.
As an IOLS participant you will learn about Campsite Setup, Outdoor Ethics, Cooking, Flag Ceremonies & Etiquette, Knots & Lashings, Fire Site Preparation, and much, much more!
More information will be sent to participants and will include meals that are provided and suggested packing list.
Location: Heard Scout Pueblo, 1901 East Dobbins Road, Phoenix, AZ 85041
When & Where
Leader Specific and IOLSHeard Scout Pueblo
Friday 10-18-2019 6:00 PM MT to
Saturday 10-19-2019 6:00 PM MT
Past