2018 GCC Oceanography Merit Badge
Event Details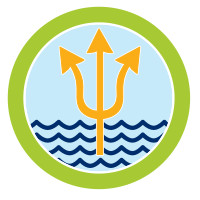 Boy Scout
Oceanography
Merit Badge
Dive in to SEA LIFE Arizona Aquarium! Be wowed by the many strange, beautiful and fascinating creatures of the deep as you journey through an amazing underwater world. Prepare for astonishingly close views of everything from sea stars to sharks, rays, octopus and a new sea turtle! To get any closer you'll have to get wet!
When: Saturday, December 8, 2018 from 8:00 AM to 11:00 AM
(Please be on-time or you might be turned away)
Where:
SEA LIFE Arizona Aquarium
5000 S. Arizona Mills Circ., Ste 145
Tempe, AZ 85282

REQUIREMENTS TO DO AT HOME:
(if these aren't completed prior to the clinic the Scout won't receive a sign-off on the blue card)
Must read a book on Oceanography approved by the Scout Leader and Requirement 8a.
PLEASE NOTE:
We recommend anything that meets the reading level and interest of the scout. Generally national geographic offers great options, the Smithsonian also has great books out about the animals. Best piece of advice is to browse the local library, and see if anything sparks the scouts interest.
The only firm requirement we have is that the book is a non-fiction, scientifically accurate, and is informative enough to write a 500 word essay on.
Also
Adults must stay. No Drop Off's allowed
Badge requirements
When & Where
SEALIFE Arizona
Saturday 12-08-2018
8:00 AM MST to 11:00 AM MST
Past