Event Details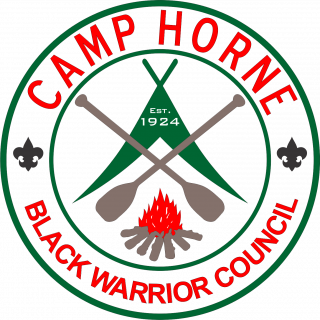 Summer Camp 2023
Camp Horne has operated as a place for Scouts since 1922. As formal summer camp started in 1924, the Black Warrior Council has continued over the years to offer a variety of Scouting programs. The camp features two pristine lakes nestled withing the rolling hills of West Alabama. Facilities and equipment are available for a number of outdoor activities including aquatics, climbing, rappelling, shooting sports and hiking. Livingston Chapel, whose open-air view of Horne Lake and the Alabama sky are unparalleled, serves as a place of prayer and reflection. Additionally, Camp Horne has an Olympic-length swimming pool and areas for outdoor skills and ecology instruction. Camp Horne is owned and operated by the Black Warrior Council, BSA. Camp Horne is owned and operated by the Black Warrior Council and continues to annually be a Nationally Accredited BSA summer camp.

Dates:
Cub Scout and Webelos Session 1: June 11 – June 14
Scouts BSA Session 1: June 18—June 25
Scouts BSA Session 2: June 26—July 1
Fees:
Fees have changed! We are working very hard to continue to provide the best program at the most affordable price. The registration fee for Scouts BSA will be $275 (in-council), the fee for Cub Scouts will remain $155 (in-council). Individual accounts are not maintained by the Black Warrior Council and there is no payment plan administered by the BWC. Your unit may develop its own payment plan.

Important Dates:
January 15, 2023: Online Campsite Requests Open
March 15, 2023: Online merit badge registration opens via Black Pug
May 15, 2023: Final Payment Due (For all registrations)
A Fee of $25 will be applied to any registrations after May 15, 2023
Campership Applications Due March 15, 2023

Important Number During Planning:
(205) 554-1680 Council Office

When & Where
Cub Scout Resident Camp Session 1Camp Horne
Sunday 06-11-2023 2:00 PM CT to
Wednesday 06-14-2023 9:00 AM CT
Past
---
Scouts BSA Resident Camp Session 1Camp Horne
Sunday 06-18-2023 2:00 PM CT to
Saturday 06-24-2023 9:00 AM CT
Past
---
Scouts BSA Resident Camp Session 2Camp Horne
Sunday 06-25-2023 2:00 PM CT to
Saturday 07-01-2023 9:00 AM CT
Past